Platinum Jubilee Picnic in Silchester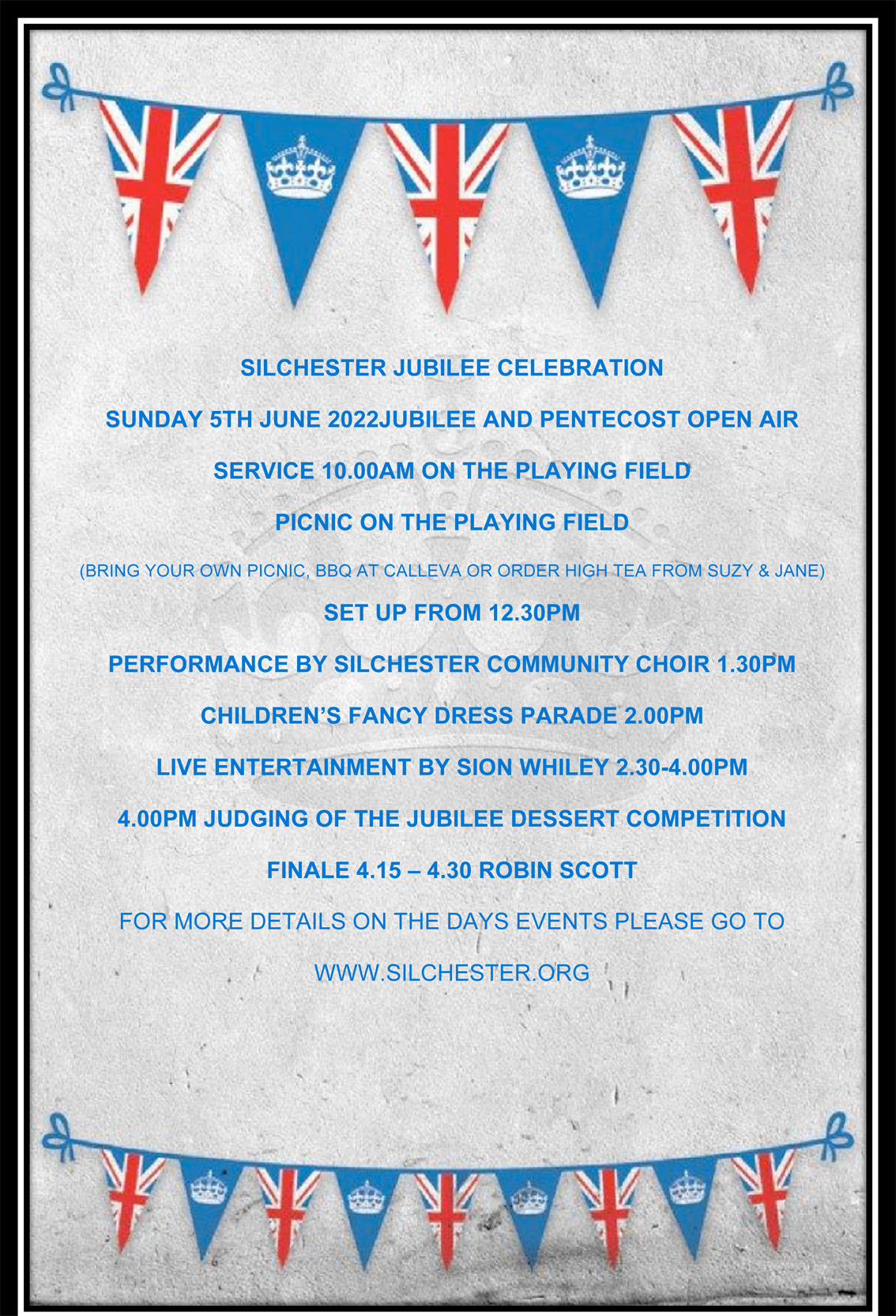 Come and join in Silchester's celebration of Her Majesty the Queen's Platinum Jubilee.
There will be a picnic on the field in front of the Sports Pavilion. You are invited to bring your own gazebo, tables and chairs, decorate your space and provide your own food and drink,
Alternatively you can get a BBQ at the Calleva or a Platinum Jubilee Picnic Box from Suzi and Jane
There will be entertainment, a fancy dress competition for children and Silchester's own Jubilee Pudding competition
Rob Young will conduct an open air church service in front of the sports pavilion in the morning at 10am so you are invite to start setting up your space any time after 12.30pm
There will be a closing session and the National Anthem at 4.30pm but you can stay and party for as long as you wish
CHILDREN'S FANCY DRESS PARADE AND COMPETITION
As part of our events to celebrate the Queen's Platinum Jubilee a long-standing member of our community suggested a children's Fancy Dress Parade. We understand that he was involved in just such a parade at the Queen's Coronation and, although not there in person, he has anecdotal evidence that a similar event took place for the coronation of the Queen's father George VI.
We felt that it would be nice to maintain this "Village Tradition". So, we are proposing a Fancy Dress Parade and competition to be held on Sunday 5th June at approx. 2 pm as part of the Picnic on the Playing Field. Entry is free and open to all, the theme is red, white and blue, and there are first place prizes for the best dressed child aged under 7, and aged 7 to 11. .
SILCHESTER JUBILEE DESSERT COMPETITION
Calling All Silchester Bakers. As I am sure many of you are aware, one of the national events to celebrate the Queen's Platinum Jubilee is to create a Jubilee Dessert, which will be presented to the Queen, and the recipe shared with the public. At the Silchester Association we thought that we could run our own baking event.
The rules are few, we are looking for a dessert that somehow reflects the Queen. This could be in many guises… Steamed or baked, layered, or rolled, a pie or crumble, a cake or tart. It could be themed, purple, or red, white, and blue, the choice is yours.
All desserts will be put on show at the Picnic on the Playing Field event on Sunday 5th June, and the winning entry will be chosen and announced at approx. 3.45pm by "The Home Chef", Peter Allison who is Silchester's answer to Gordon Ramsey, but with less colourful language!