Silchester Beer Festival Saturday 8th September
4:00 pm to 11.00pm at Silchester Village Hall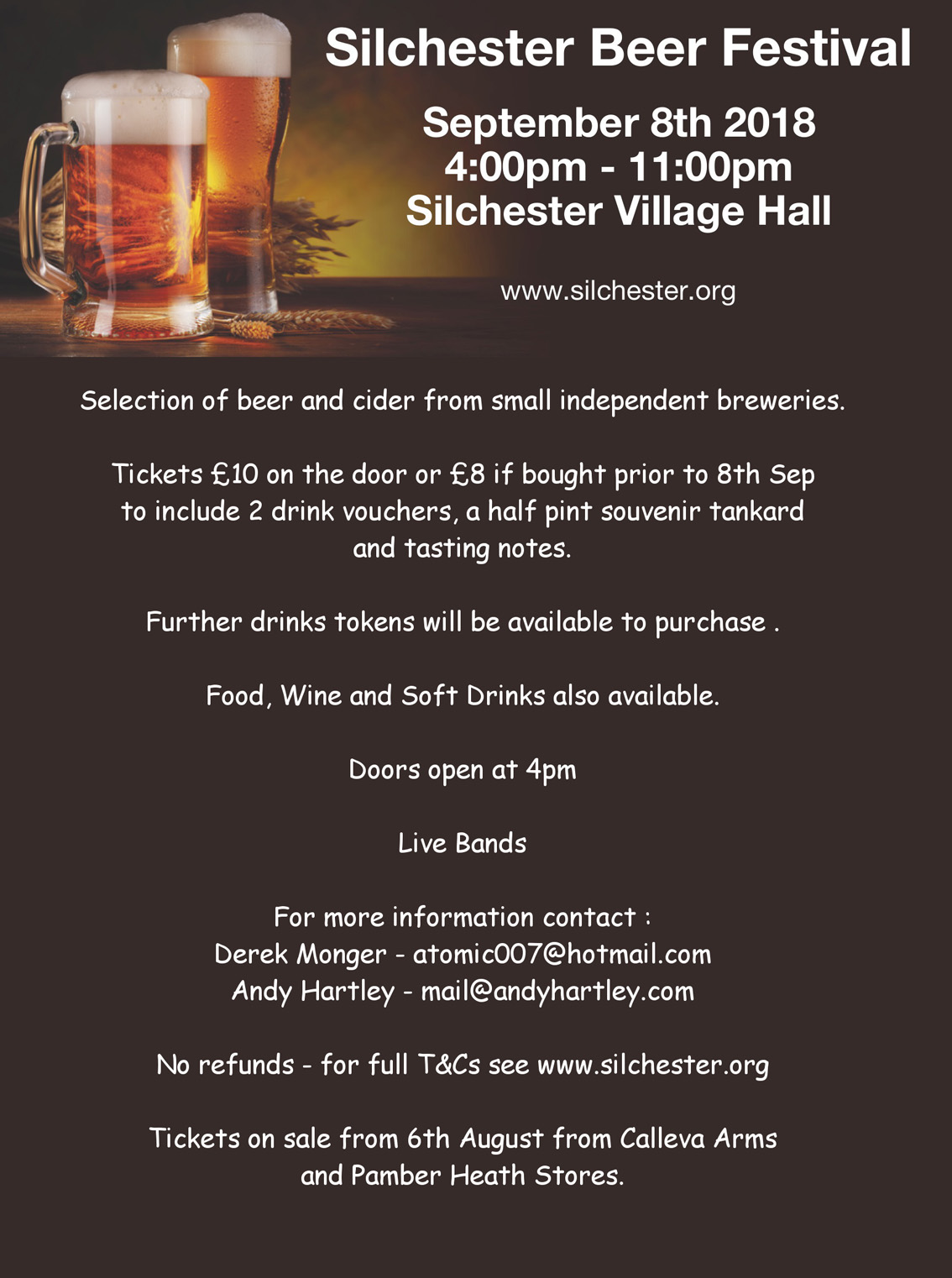 Small Independent breweries we are promoting this year:
New Wharf
Little London
Bond Brews
Wild Weather
Longdog
Tutts Clump
Crazy Dave
Some of the beers are going to be specials and have not been named yet. Others include, Bond Brandy Porter and Best of British beers, Tutts Clump Farmhouse and Perry ciders and Crazy Dave Berkshire Medium, Rebel and Angel ciders. Soft drinks and wines will also be available. Entry is ticket only- £10 ticket purchase on the door or £8 if bought before 8th September. Ticket holders will receive a half pint souvenir tankard, tasting notes, with 2 drinks included, access to live music and an opportunity to purchase food. Further drinks tokens will be available to purchase. No ad hoc entry for buying drinks and/or food. Cash only, no cheques or credit cards. Tickets will go on sale from 6th August. Numbers are limited and in some years people have had to be turned away at the door as the event does sell out especially when we have long hot summers!! Food will be available to purchase through Suzi and Jane Catering. Food is not included in the ticket price. We are pleased to announce that Zach Johnson will be playing at this year's festival from 4.30 until 5.30. Zach Johnson is an artist from South-East England, writing lyrically driven Indie folk tunes. He has been touring extensively for the last 2 years all round the country, supporting such acts as Greg Russell & Ciaran Algar, The Black Feathers and Luke Jackson at sold out shows. He has appeared at Trinity Folk Festival, The Big Festival and Walton Folk Festival, where he was featured in a Folk Radio article, describing him as the stand out courtyard performer. Zach released his debut EP, The Last Days of June in 2016 and a single, Small Town, in early 2018, to excellent response.
We will also be entertained by the Clique Duo later in the evening. Volunteers to help set up on Friday, support on the night or clearing up on Sunday please contact Andy Hartley or Derek Monger via This email address is being protected from spambots. You need JavaScript enabled to view it.
Event Cancellation Policy for Pre-Event Ticket Sales Following the difficulties the Reading Half Marathon organisers faced this year when snow forced them to cancel their event, the SA Committee took legal advice about what it should do about event cancellation. The Committee members were advised to publish clear T&Cs for tickets sold pre-event if a SA event was cancelled. When the SA organises mass people events like the Beer Festival and Bonfire Night and pre-event tickets are sold indirectly as cash purchases, the Committee members concluded that providing refunds for these tickets would be extremely difficult to do. So, in future any ticket bought in advance for the Beer Festival or Bonfire Night is non refundable under any circumstances, even if the organisers have to cancel the event. This information will appear again on our website, Facebook page, and on event advertising in the Parish Magazine. The Beer Festival tickets will state 'terms and conditions will apply'. To compensate ticket holders we will offer free entry to the same event in the following year providing the ticket holder keeps the ticket undamaged and there are no signs of tampering/fraudulent activity. It is worth mentioning that the Silchester Association has never cancelled a Beer Festival or Bonfire Night, so the risks of this happening are small. But now we all know where we stand.