Silchester Beer Festival Saturday 8th September
4:00 pm to 11.00pm at Silchester Village Hall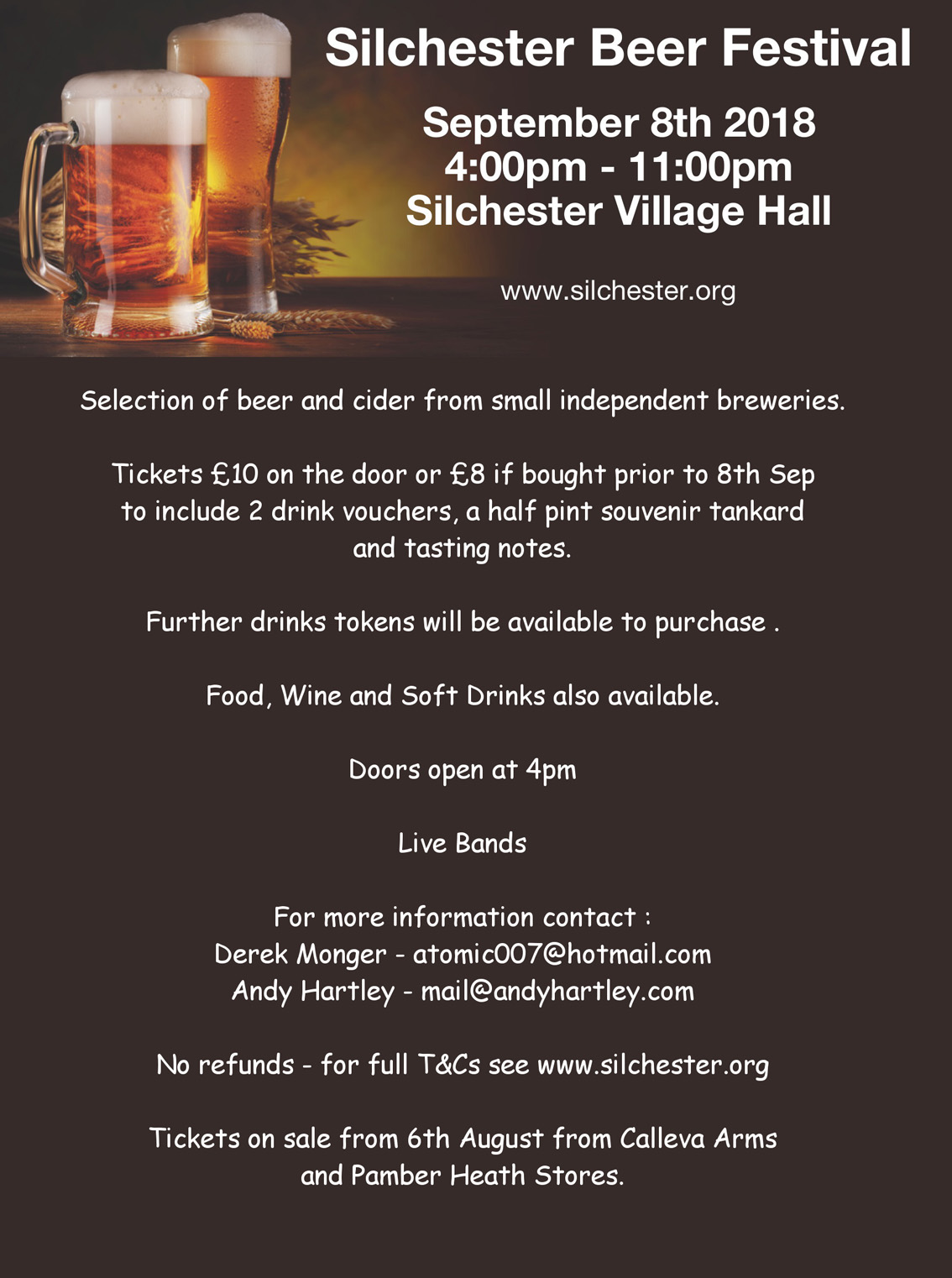 8th Annual Silchester Beer Festival - 8th September 2018
Small Independent breweries featured this year
New Wharf
Little London
Bond Brews
Wild Weather
Longdog
Tutts Clump
Crazy Dave
We had a good turnout this year with 220 people through the doors and did a good job of drinking most of the beers and ciders on offer.
The winners by popular vote this year were
1. Breakfast Stout from New Wharf Brewery
2. Luvly from Little London Brewery
3. English IPA from Longdog Brewery
Best Cider or Perry was Tutt's Clump's Traditional Farmhouse Perry
We had a change of tempo with the band this year and enjoyed music from the Clique Duo in the evening as well as from singer-songwriter, Zach Johnson, earlier in the afternoon
Once again Suzi and Jane Catering did a great job in keeping us all fed with tasty curries and pork buns.
This year we also held a popular raffle with prizes donated by our beer suppliers
As always, this event would not happen without the help of all the volunteers who turned up to help on the night and special thanks to the ones who came along to help set up the day before and to clean up on Sunday.
Event Cancellation Policy for Pre-Event Ticket Sales Following the difficulties the Reading Half Marathon organisers faced this year when snow forced them to cancel their event, the SA Committee took legal advice about what it should do about event cancellation. The Committee members were advised to publish clear T&Cs for tickets sold pre-event if a SA event was cancelled. When the SA organises mass people events like the Beer Festival and Bonfire Night and pre-event tickets are sold indirectly as cash purchases, the Committee members concluded that providing refunds for these tickets would be extremely difficult to do. So, in future any ticket bought in advance for the Beer Festival or Bonfire Night is non refundable under any circumstances, even if the organisers have to cancel the event. This information will appear again on our website, Facebook page, and on event advertising in the Parish Magazine. The Beer Festival tickets will state 'terms and conditions will apply'. To compensate ticket holders we will offer free entry to the same event in the following year providing the ticket holder keeps the ticket undamaged and there are no signs of tampering/fraudulent activity. It is worth mentioning that the Silchester Association has never cancelled a Beer Festival or Bonfire Night, so the risks of this happening are small. But now we all know where we stand.