The Silchester Holiday Club is held every summer at the Methodist Church.
Silchester Holiday Club has been running annually at Silchester Methodist Church since 2012 and welcomes about thirty primary aged children for the first full week of the school summer holidays, concluding with shared worship with parents and our congregations on the following Sunday morning. It is Bible based (eg 2019 'The Adventure Cruise' based on Luke's gospel) and is organised by volunteers mainly from Silchester Methodist and St Mary's Churches. (All DBS checked)
Children are split into three or four groups based on their ages. At the beginning of each day we all meet together for an introduction to the theme of the day before returning to our groups for age-related activities elaborating on the theme, followed by other sessions which include crafts, cooking, singing or drama.
Afternoon activities include sports, swimming, theme related construction and sometimes a visiting speaker. Some sessions may be split across the age groups so older children can work with younger ones.
The club is publicised in the Silchester magazine in February, via Silchester school and also by direct email to previous attendees.
Please contact Gill at This email address is being protected from spambots. You need JavaScript enabled to view it. or Rosemary on 01189702219 for more information. We would be particularly pleased to receive any offers of help even if only for a couple of hours.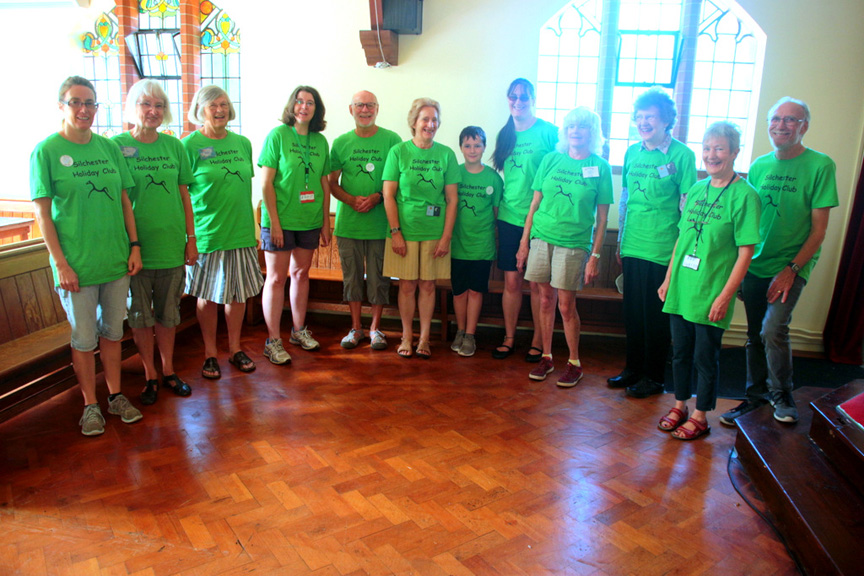 This year the leaders' T-shirts were sponsored by the Silchester Association.